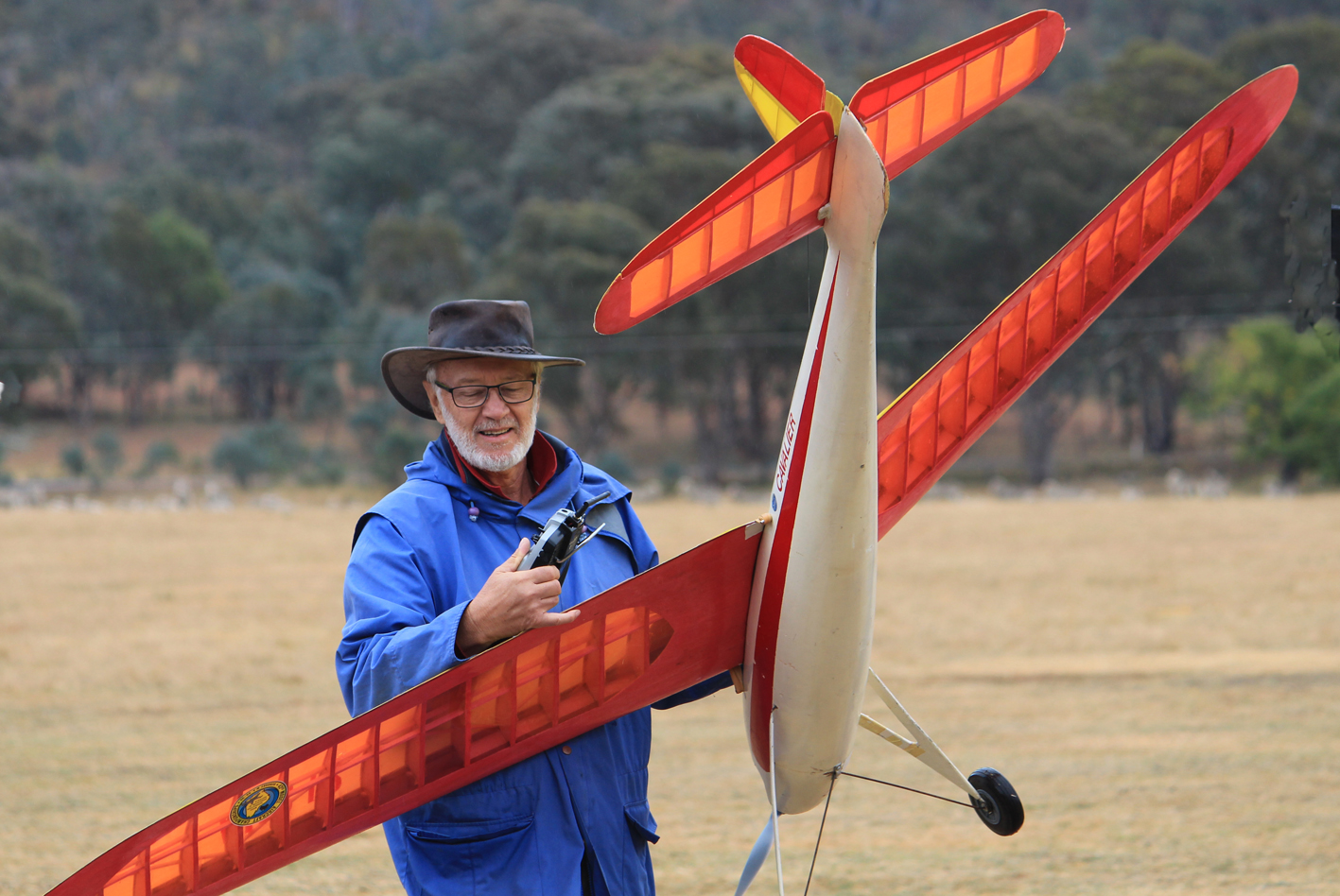 I started building and flying model aircraft in Lismore in the late 1950's in the company of well-known fliers such as Ian McCaughey, Jim Palmer and Russ Hammond. I flew both free flight and control line, with a brief attempt at single channel radio control.
In the 60's I tried single channel radio control again (the gear had improved somewhat) with a Hearns Hobbies 'Rudderbird'; an aircraft I still have covered in aging silk!
In the 1970's I ran a model aircraft club for school children, and even belonged to the control line club that flew at St Ives showground. In the mid 70's I started multi-channel radio control glider flying in Armidale with David Morgan and Tony Hall. Together we launched the New England Model Aircraft Club.
By 1980 I had started a hobby business, Moore Park Model Supplies, and had launched the Sailplane Expo event. Ralph Learmont attended early Sailplane Expos, and Jack Black also demonstrated electric flight at these events.
My first Nationals was the 1979 Goulburn Nats where I flew a Cirrus in F5B! Never again!
  In 1985 I assisted as an official at the F3B World Championships at Waikerie in South Australia. Here I met Peter Blomaart and Jan David and made many friends from overseas countries. I caught the excitement of international flying!
The demonstration Jan David gave of flying an electric glider, meeting Peter Blomaart and buying my first cobalt motor from him (a Keller 50), and my previous association with Jack Black, prompted me into electrics. In 1986 I gained a place on the Australian team for the first F5B (then F3E) World Championships.
World Championships I participated in:
1986 1st Electric Flight WC, Lommel, Belgium
1988 St Louis, Missouri, USA
1990 Friedstadt, Austria
1992 Pappendal, The Netherlands
1994 CD for WC at Wangaratta, Australia
Further involvement in electric flight:
Commenced the National Electric Flight Rally in Armidale in 1987 and 1988
Participated in subsequent rallies at Nowra and Wangaratta
Traded in electric flight products since 1986, including agencies for Graupner, Multiplex, STW, Schulze, Hecktoplett, Astro
Produced The Electric Flight Newsletter 1988-1994
Published The Australian Electric Flight Handbook in 1987
Won the Indoor Weight Lifting Postal competition for indoor models in 2001
My experience in electric flight places me in an excellent position to assist Australian modellers with electric flight products and advice. To contact me with questions, click on the E-mail link below.
Peter Pine  •   Electric Flight in Australia  •  1/40 Kellehers Road  •  Pottsville Beach NSW 2489
Phone:
(02) 6676 1437 •  
Mobile:
(0407) 732 440  •  
E-mail:
ppine@northnet.com.au